Hit Trini Film 'God Loves the Fighter' Come to Bklyn
When you think of Trinidad & Tobago, what first comes to mind? White sand beaches? Clear blue oceans? The musical lilt of the locals' speech? Maybe carnival is foremost in your mind. Gorgeous women in spectacular costumes chipping down the road to a banging soca beat. For many these images are the face of the twin republic. A beautiful vacation getaway where life is simple and easy. But for those who live in T&T life isn't always so picturesque. There are men, women and children living in the shadows of Trini society, doing whatever is necessary to make it through to another day.
It is this underbelly of the community that is explored in the award winning Trini film God Loves The Fighter, which makes is Brooklyn debut on Tuesday, April 7th at 7:30pm at the Caribbean Film Academy's new Caribbean Film Series at BAM Rose Cinemas. The film is presented in partnership with BAMcinématek. Writer and director Damian Marcano will be in attendance for a post-screening Q&A.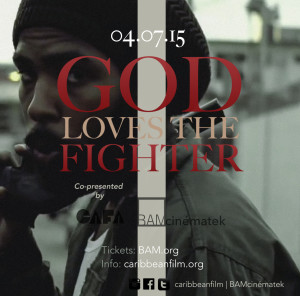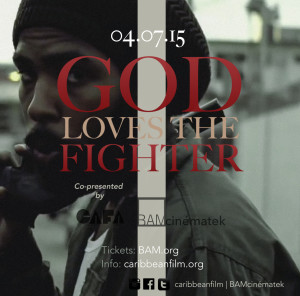 Featuring members of the reggae/spoken word group Freetown Collective, Fighter has already been compared to Brazil's City of God, and the classic Jamaican film, The Harder They Come, as it boasts powerful visuals and a local soca music filled soundtrack.
SYNOPSIS
When Charlie (played by Muhammad Muwakil of Freetown Collective) falls on hard times, he tries his best not to fall into a life of crime, but succumbs in order to survive. Feeling an unexpected encounter with the prostitute Dinah (model Jamie-Lee Phillips) will turn his life around, it instead releases a ripple that affects others in and around their forbidden and violent world. Boasting a full Trinidadian cast, Fighter's multiple story line plot is narrated by street vagrant King Curtis (Lou Lyons of Freetown Collective). The film also stars veteran stage and screen actors Penelope Spencer (Home Again, 2012), Errol Sitahal (Harold & Kumar Go to White Castle, 2004) and Albert Laveau (The Mystic Massuer, 2001).
With the explosion of filmmaking in the Caribbbean, Romola Lucas, of the Caribbean Film Academy (CaFA) who is presenting Fighter along with independent film programmer Curtis Caesar John, states that the new Caribbean Film Series will, "shed light on the richness and viability of Caribbean cinema." She continues that, "many Caribbean nationals are active consumers of 'foreign' media and Fighter provides an opportunity for them to support a Caribbean-made film with a similar aesthtic." With the international success of independently made film s like Storm Saulter's Better Mus' Come, Patricia Benoit's Stones in the Sun, and Fatal Assistance by Raoul Peck, the Caribbean is posed to claim its spot in the world filmmaking market."
Co-presented by BAMCinématek, God Loves the Fighter will screen at BAM Rose Cinemas on Tuesday, March 7th at 7:30pm. A Q&A with director Damian Marcano will follow. The short film Vivre (13min – 2013) by Martinican director Maharaki precedes the film. The soundtrack for God Loves the Fighter, "Laventille", is available for preview online and will be available for sale following the film screening.
For ticket information go to BAM.org/GodLovesTheFighter. For overall information about the Caribbean Film Series and the Caribbean Film Academy, contact Romola Lucas at romola@caribbeanfilm.org or Curtis Caesar John at curtis.john@gmail.com or 917.697.4157.