RACA Review: Moonlight & Masculinity
Moonlight, the stunning new film by writer/director Barry Jenkins, first came to my attention via Facebook. Ads for upcoming screenings were popping up on my timeline and though I wasn't quite sure what the film was about, the image of Mahershala Ali holding Alex Hibbert in his arms as they stand in the ocean moved me. In support of black film and in anticipation of a story that centered the black male experience, I immediately purchased tickets to the next NYC screening.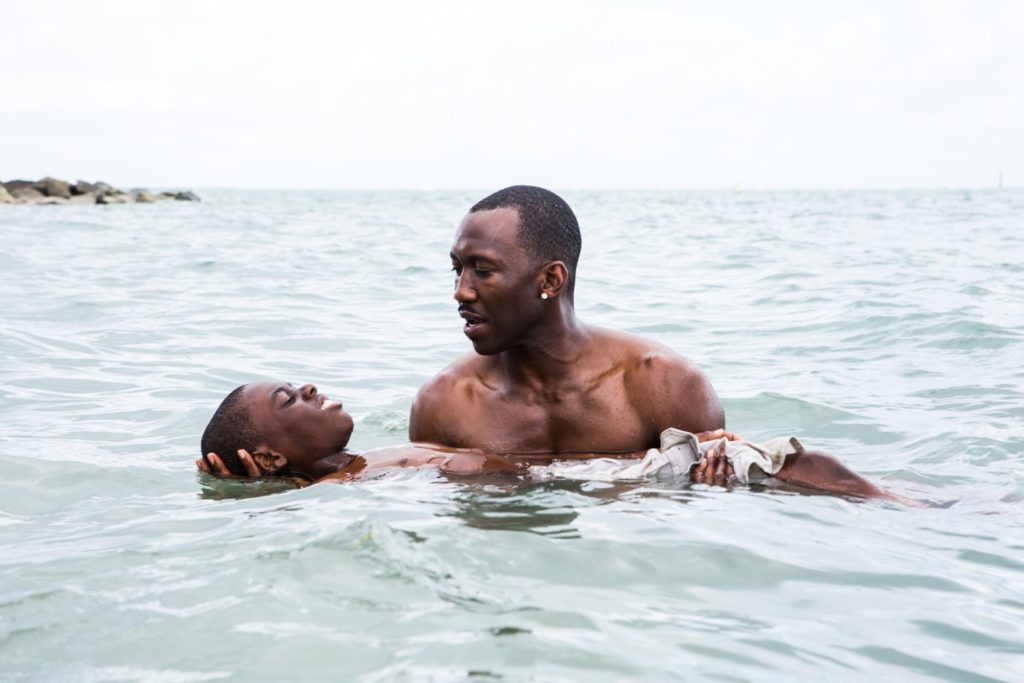 By the time the screening rolled around, I had seen the film's trailer several times and read a few blogs posts extolling the beauty and depth of the story. I was primed and ready to fall in love with the characters. Conversely, my date for the evening, #HaitianBoo, had not clue the first as to what the film was about. And as we took our seats, I didn't enlighten him. I looked forward to watching him experience the film from zero, with nothing to color his opinion.
The house lights went down, the opening credits came up, and it soon became clear that, as the comedian Kevin Hart once said, I wasn't ready.
Not for the nuance and depth with which Jenkins explored the characters' struggles. Not for the beautiful coloring and framing of the film. Not for the unexpected but on poignant score. And definitely not for the actors' subtle yet powerful performances.
**Spoiler Alert**
If you haven't seen the film and don't want any specifics revealed then STOP READING RIGHT NOW. If you choose to continue reading, do not @ me about how I n I could tell all what happen inna di film. After this point, is your own fault and me nah want hear bout it. You've been warned.
*****************************************************************************************
Divided into three parts, Moonlight follows Chiron, a young man growing up in a Miami housing project, as he struggles to come to terms with his sexuality and what that means for his identity as a black man.
Little, as he's known in Part 1, is a quiet elementary school boy who is mercilessly teased and bullied by the neighborhood kids. Why he is a target is unclear at first and few hints are dropped. While playing with other kids in a field, Little (played by Alex R. Hibbert) is alternately stared down and physically intimidated by the other boys. Despite his friend Kevin prodding him to stand up for himself and show the boys he's not 'soft', Little seems unwilling/unable to 'man up' in the way expected by his peers.
Something more than being soft is intimated in a scene between his mother, a crack addict played by Naomie Harris and Juan, portrayed by House of Cards' Mahershala Ali, the local drug dealer that's befriended him, " You gon tell him why the other boys kick his ass all the time?" Everyone seems privy to the why but are unwilling to say it out loud. It only becomes clear to the audience (and maybe to Little as well) when he asks Juan and his girlfriend (played by singer Janelle Monae) "What's a faggot? Am I a faggot?"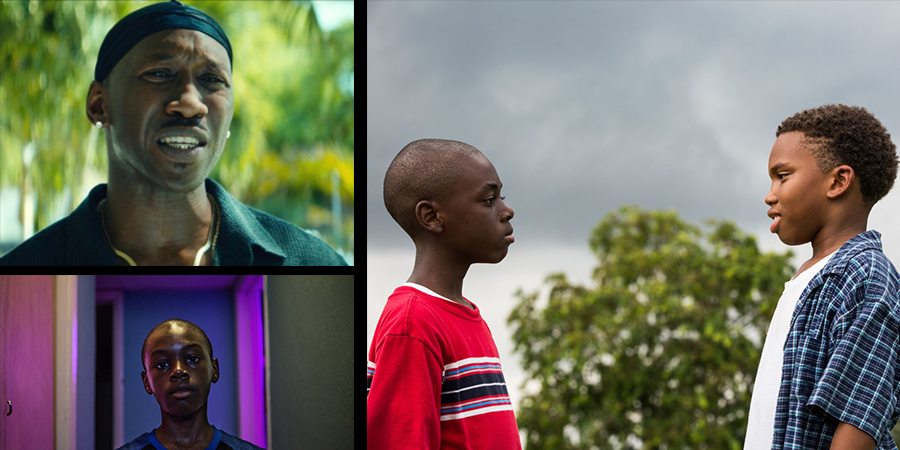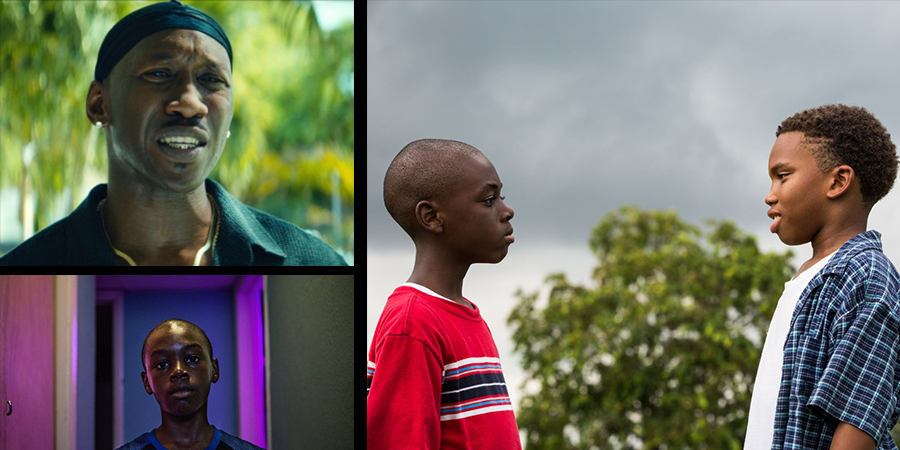 At several points, #HaitianBoo leaned over to ask me, "But how do they know he's gay?" Jenkins doesn't give us much backstory on Little but we know that he is quiet, unassuming and does not stand up to his bullies. As is often the case in real life, those traits define him as being soft. Soft = weak. Weak = feminine. Feminine = gay. Whether or not this assessment is true doesn't matter. Once made, the label sticks. Too often in our community, if your presentation is anything other than the accepted definitions of masculinity: rough, tough and aggressive, you are other. And being other is unacceptable. It's a threat to the status quo and worthy of endless torment.
In part 2, Little is a high school student now known by his given name Chiron (played by Ashton Sanders) and is still being tormented by his peers. Verbally and physically assaulted on a daily basis, Chiron is the walking embodiment of fear and pain. Which makes him an even bigger target. His childhood friend Kevin is still around and during a late night visit to the beach, they cross the line from friendship to something more as they engage in a bit of sexual exploration.
As it becomes apparent that this is more then just two homies kicking it on the sand, #HaitianBoo leans in and asks, "What did you bring me to? Is this some homosexual coming of age tale?" Blank stare. As Kevin and Chiron lean into each other #HaitianBoo grabs the bag in my lap and damn near destroys it, his body contorting as he cringes and crumples the bag, trying to silently deal with the sight of two men kissing and caressing on screen.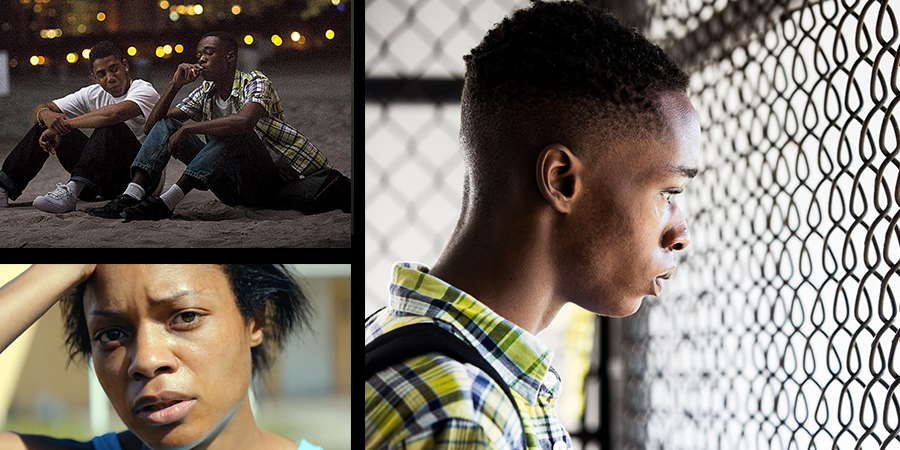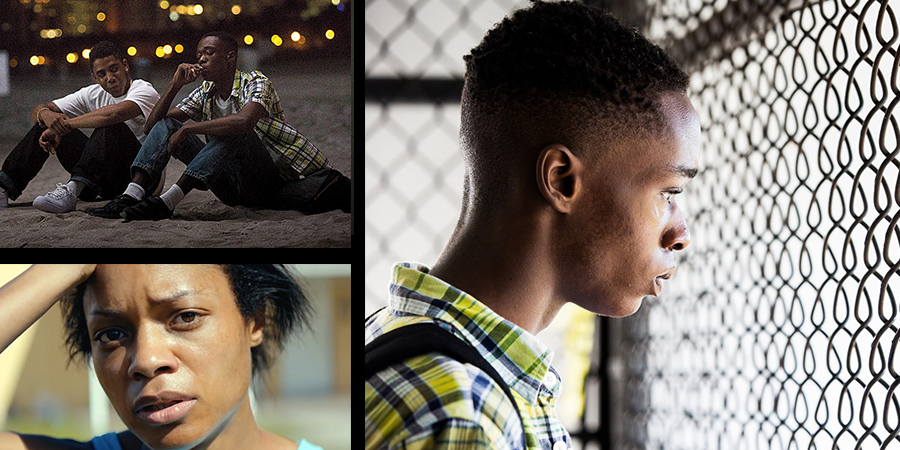 Sigh. Really? I was disappointed as I thought him to be more evolved and cosmopolitan than this. Though to be fair it wasn't too long ago that I too had the same reaction to same-sex PDA. It takes time and effort to overcome ingrained biases. And the stigma of homosexuality is strong within the Caribbean community. Our subsequent conversations on the scene illuminated how each of us have/are battling that learned bias.
As we move into part 3, Chiron, now known as Black, has transformed himself. No longer is he the weak kid ever cringing in anticipation of the next blow. He's now, per society's standards, a man. A wife-beater wearing, gold-front rockin' drug dealer who is now the one to strike fear in the heart of others. He is Black male masculinity personified.
But when contacted by Kevin his childhood friend, 10 years after that night on the beach, we begin to see that this tough exterior is just a facade. Kevin spots it immediately, "I ain't see you in like a decade. This not what I expected. Who is you Chiron ?" Black has constructed this hypermasculine exterior as a means by which to survive in his community, but his reunion with the one man who touched him, physically and emotionally, all those years ago, causes his shell to crack.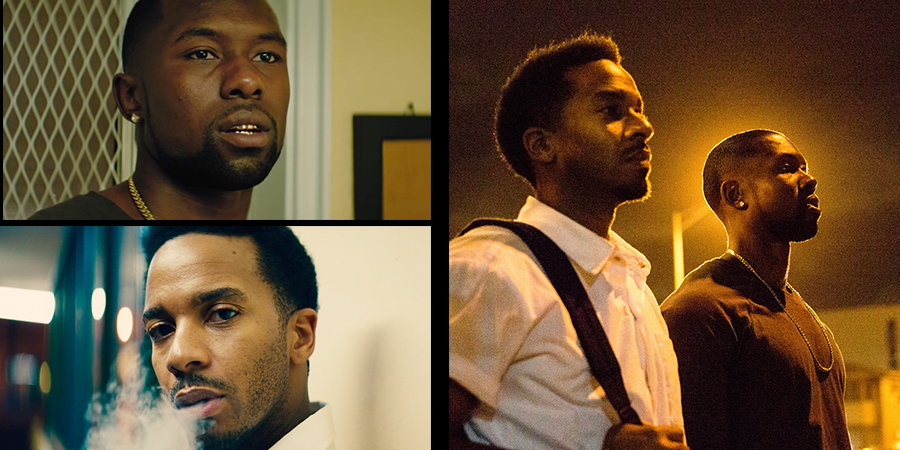 What makes this moment so powerful is that instead of focusing on their sexual desire Jenkins makes Chiron's emotional needs, his longing to be loved and understood, the centerpiece of the scene. Trevante Rhodes' portrayal of Black/Chiron is riveting. You can feel the years of loneliness and longing for affection emanating from his core. His vulnerability in this moment is both heartbreaking and beautiful to watch.
Moonlight is a must see. To experience a film that fully centers the black experience, the black male experience, the black male gay experience is mind blowing. And not only are our lives the focus of the film, we are, more importantly, portrayed in our entirety. Jenkins rejects the cardboard cutout portrayals of 'neighborhood drug dealer', 'single mom crack addict', 'DL gay black man' that we've seen over and over again and presents us as the layered and complex individuals we are in real life.
We are in the midst of a renaissance in Black media. From theatre and film to television and digital media, not only are we seeing an uptick in representation but we are seeing that the fullness of our lives, the depth of our stories and the varied characters that inhabit our universe are finally getting the shine they deserve.