Caribbean Culture Shines in Spike Lee's Latest
_________________
Brooklyn has been the backdrop of countless films and television series over the years. From Annie Hall and The Cosby Show to Moonstruck and Brooklyn Nine Nine, the borough and its' people have been a favorite subject of many writers and directors. The current captain of #TeamBrooklyn is undoubtly Mr. Spike Lee. Lee has spent a lifetime exploring the lives of Brooklyn Black folk. As a born and bred Brooklynite myself, though I didn't live the brownstone life he usually portrays, I appreciate his dedication to consisently putting our borough, our people and our culture on screen.
But like many, being a Black American is only one facet of my identity. I'm also of Caribbean descent and Caribbean folk have been residents of New York for generations. Starting with a trickle of West Indian immigrants in the early 1900's and becoming a more significant flow of migration in the 1960's, Caribbean folk and their descendants have helped to shape the citys' culture from its inception. Yet we haven't often seen full-bodied, nuanced depictions of ourselves in the media. The way our identity politics are set up, because many Caribbean folks are Black, our culture often takes a back seat to our color when it come to media representation. Our particular stories often becoming swept up in the over-arching story of Black America.
Spike's work has focused primarily on the Black American experience. Of the many films and tv shows he has directed, produced or acted in, there have been few portrayals of Caribbean people or Caribbean culture.  One of note is that of West Indian Archie in Malcom X, played by the wonderfully talented British-Jamaican actor Delroy Lindo.
With an recognizable Caribbean accent and a nod to Malcom X's Grenadian heritage we get one of Spike's few visible representations of the Caribbean people that have always been a part of the New York community.
The other visibly Caribbean character in Spike's work is Tina, Mookie's babymama (played by Rosie Perez) in the classic Do The Right Thing. A hot-mouthed Puerto Rican, Tina has a short scene in the beginning of the film with her mother. She moves through the scene arguing with her mom in a mix of  Spanish and English, and that, sadly, is the most exploration into her heritage, and that of any other Puerto Rican character in the film, that we get.
Aside from these two there are few other characters in Spike's work where their West Indian heritage get any serious exploration. That is until the 2017 update of Spike's seminal film She's Gotta Have It.
In the series, Nola Darling is a millennial artist living life her best bougie black girl life in Fort Greene, Brooklyn. And from the opening scene to the series' score this felt very Spike. Very new generation Black Brooklyn. I wasn't a huge fan of the original film but as I watched the first episode I enjoyed where he was going and didn't expect any major surprises. And then we meet Shamekka. Played by Jamaican/Filipino/American actress Chyna Lane, her first appearance on screen wasn't anything special. "Typical Brooklyn chick." I thought, as I tried to figure out if her BK accent and no-nonsense demeanor signaled her to be the 'of ratchet origins, heart of gold with a rough exterior' member of Nola's girl group.
Then, as Shamekka modeled for Nola, my jaw dropped as I watched as my gyal buss a quick wine and dip in and out of  some JA patois. A wha dis? Did this woman just codeswitch and pelt waist on my television screen? I was genuinely shocked. And happy. Not just because I didn't expect any West Indians to be in a Spike Lee joint, but also because I didn't expect there to be such a familiar Caribbean portrayal.
Most Caribbean characters on screen are some version of the dredhead Jamaican stereotype. Puffing a blunt in their red, gold and green rasta cap. But in that moment I recognized Shamekka. She is me and every first generation Caribbean-American in my circle. Kicking it with our crew, we hop from one side of the cultural hyphen to the other as needed to make our point or get that laugh. Slipping easily in an out of patois, AAVE, Kreyol, creolese and the queen's English. We of the dutty wine and the harlem shake were well represented by this BK by way of JA chick.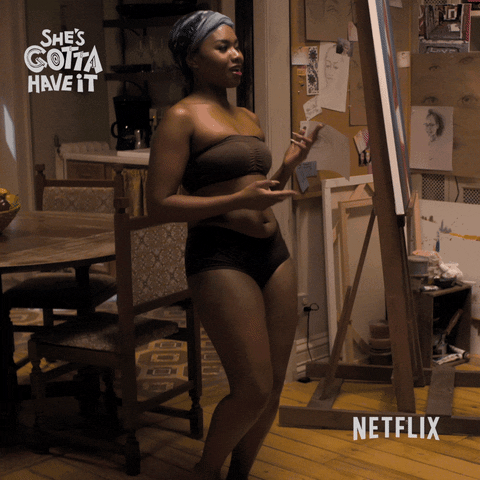 The surprises didn't end there. Spike continues to rep for we people dem by turning his character Mars Blackmon, played by himself in the original film, into a half Black, half Boricua brother. Mars (played by Anthony Ramos) and his sister Lourdes aka Lulu (played by first time actress and acclaimed chef Santana Caress Benitez), rep for the Latinx side of the Caribbean. A side I admittedly am unfamiliar with and at first didn't even identify as being a part of the Caribbean diaspora. But as the saying goes, we are not a monolith. Lulu's introduction as a Yoruba priestess and the reading / cleansing ceremony she performs on Nola was additional depth of character and homage to the culture that I didn't expect but fully appreciated.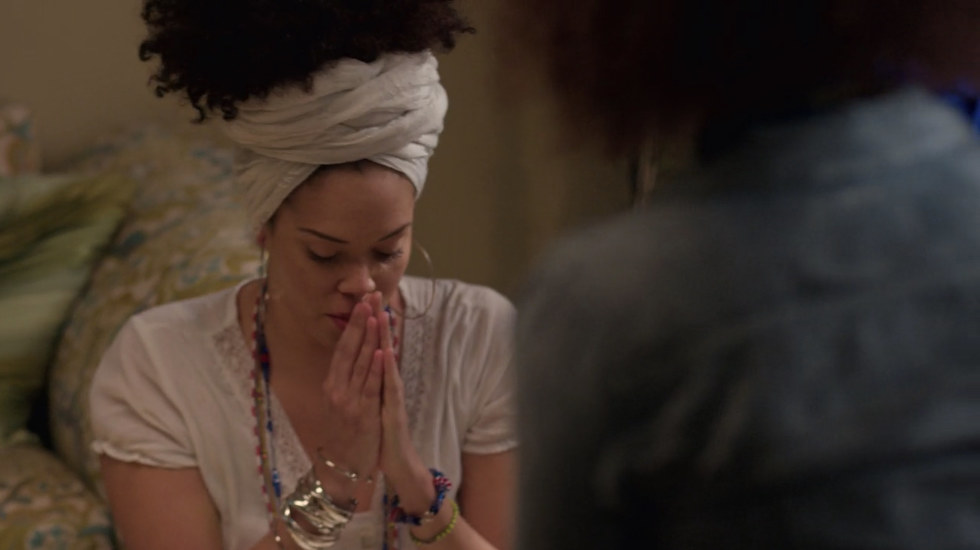 For me what there are two things that stand out most about the Caribbean representation in SGHI. First: the many and varied representations of Caribbean people. Not only do we get Shamekka's Brooklyn bad gyal and Mars' cute Puerto Rican 'half-nigga' as he calls himself, but a host of others. Nola's friend Terrell a first generation Trini-American gay man who we meet jamming with Nola to Soca chunes at his fathers retirement party. Fictional dancehall  artist Wally Murk who gets Nola dutty wining with the best of them. And Papo, a failed artist and homeless veteran from the Dominican Republic. Black and Latin, light and dark-skinned, gay and straight, Spike uses Nola Darling to bring a variety of authentic Caribbean people and experiences to our screens.
Secondly: the seamless integration of Caribbean folk and experiences. We aren't just window dressing, stand-alone prop pieces to add some color and spice to the story. Caribbean culture isn't weird, other, or exotic in Nola's Fort Greene. It's just another part of the Brooklyn experience and integral to the telling of these stories. That Nola and her peeps are familiar with, thoroughly enjoy and genuinely appreciate our contributions to the culture is reflective of many Brooklyn communities. Again, watching Nola sweat it out in her Afro-Caribbean dance class, give herself over to a Yoruba cleansing and  bussin' a quick bogle reminded me of my peeps. Hanging with a crew of 1st gen hyphens and born & bred Americans we shared and swapped cultural experiences with ease and without much thought.
After a lifetime of consuming content that rarely portrayed my heritage outside of stereotype, or as an exotic import to ohh and ahh over, it's a welcome respite to see realistic and authentic portrayals on the #hyphenlife on screen.
Fingers crossed that Season 2 brings deeper and more varied depictions of our lives. Maybe some Indo- or Chinese-Caribbeans? Exploration of the native Caribbean vs Caribbean-American dynamic? Or the introduction of Caribbean colorism, in particular among the Afro-Latinx characters (riding the wave of awareness recently brought to light by Amara LaNegra's storyline on the reality show Love & Hip Hop Miami). Despite the characters and scenarios introduced, Spike has barely scratched the surface. There is so much more waiting to be explored.
Now I know that this is Nola Darling's world and her story is the focus here. So expecting in-depth storylines revolving around Caribbean culture may be asking too much. But Spike and his writers clearly understand that even in a world where Black American people and culture are the focus, that the Caribbean diaspora cannot be ignored.  With Season 2 confirmed I look forward to the return of Shamekka, Mars, Papo and crew and the continuing evolution of our story on screen.
What did you think? Did the portrayals measure up? Did they feel authentic? What more would you like to see from Spike on this? Tell me nuh?!